BlueMark introduces the
ds240 long-range Remote ID receiver
BlueMark extends its family of RemoteID receivers with the long-range ds240 receiver. Compared to the ds230 receiver it has 3x larger detection radius/9x larger detection area.
In practical deployments, the expected coverage area is  700 km2 / 15 km radius.
Remote Identification or Remote ID for short is a wireless license plate to identify drones. This direct/broadcast RemoteID technology will soon become mandatory in large parts of the world such as USA, EU, Japan and other regions for most drones more than 250 grams (EU legislation 2019/945).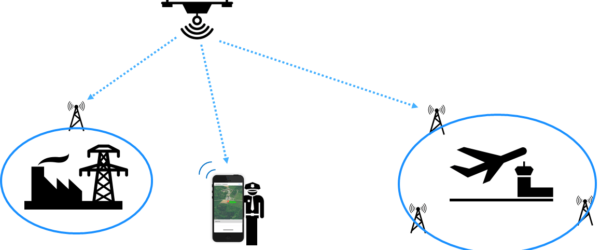 The main advantages of the ds240 receiver are:
long range

The practical detection area is : 700 km2 / 15 km radius to receive Remote ID signals. See also section 1.9 of the manual.

all transmission protocols

The ds240 supports all direct/broadcast transmission protocols (Bluetooth legacy, Bluetooth Long Range, WiFi NaN and WiFi Beacon)

all frequencies

The ds240 supports all frequencies: 2.4 GHz and 5.2 and 5.8 GHz

easy integration

The ds240 allows easy integration. The MQTT data format is described and reference Python code is open source. Also you will have root access to customize the receiver according to your needs.
The ds240 can also be ordered as backbone: only the receiver without antennas, surge protectors and antenna cables. In this case you need to install your own!