BlueMark introduces the cost-effective db202mav module

and announces two other family members
Today, BlueMark extends the family of standard Remote ID transponders with the cost-effective db202mav module and announces two other modules: the db203can and the db210pro.
The db202mav module is available for ordering with a price of € 49. It has one MAVLink port, small (26 x 26 mm) and only 2.6 gram. In addition, it has an antenna connector (IPEX3). (No antenna is included.)
For a full comparison between the different family members, see the table below.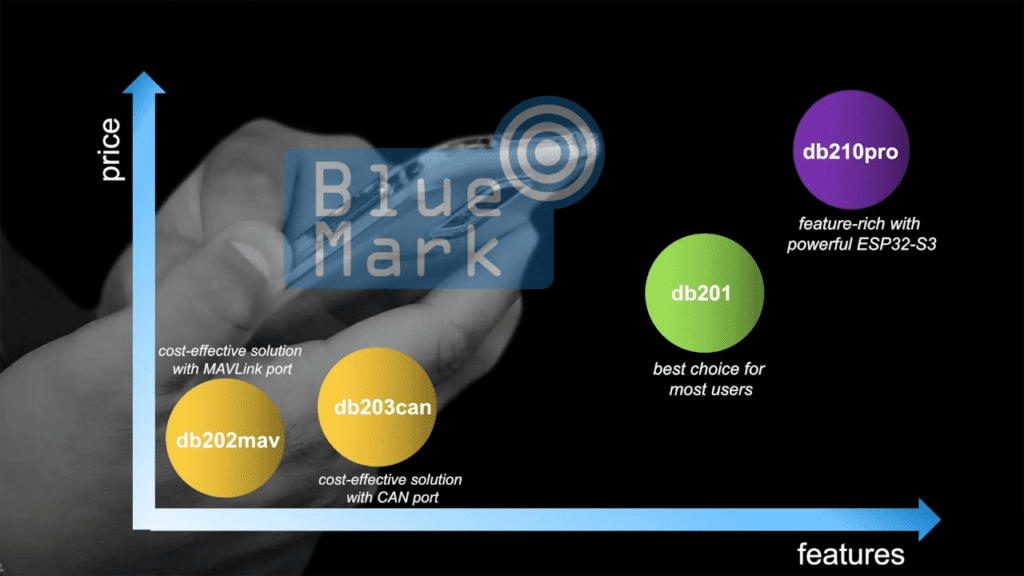 Standard Remote ID Vs Remote ID Broadcast Module
In the USA, the FAA defined two Remote ID product classes: a) standard Remote ID and b) Remote ID broadcast module.
Standard Remote ID products communicate with the flight controller and allow to fly BVLOS (Beyond Visual Line Of Sight). A second advantage is that the pilot can view the Remote ID status in flight control software such as Mission Planner or QGroundControl. On the other hand, Remote ID broadcast module are stand-alone products and are only allowed for VLOS flight (Visual Line of Sight).
In other jurisdictions like the EU these Remote ID product classes do not exist.