Locatus en BlueMark gaan samenwerken op het gebied van continu winkelpassanten tellen. Passanten 24/7 staat voor een nieuw tijdperk van passanten tellen; 24 uur per dag, 7 dagen per week, automatisch winkelpassanten registreren via wifi in combinatie met brickstream. Zonder de privacy van passanten aan te tasten.
Met Passanten 24/7 kun je snel schakelen. Door passanten continu te registreren kunnen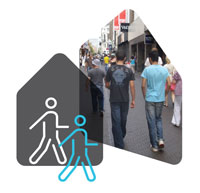 retailers, gemeenten en vastgoedeigenaren een goed druktebeeld krijgen van hun (winkel)omgeving. Dankzij de samenwerking tussen Locatus en BlueMark kan een optimaal informatieplatform geboden worden.
Niet alleen cijfers per maand of week, maar ook per uur. De informatie wordt ontsloten via een dashboard met overzichtelijke grafieken en tabellen. Bovendien kunnen de passantenstromen ook letterlijk in kaart gebracht worden op de GOAD Plans van Locatus.
Deze realtime passanteninformatie is ideaal voor het monitoren van retaillocaties, en geeft antwoord op vragen als:
Welke delen van het centrum zijn populair/minder populair, en hoe verandert dit?
Wat is de invloed van evenementen?
Hoe ziet het druktebeeld in de loop van een week eruit?
Hoeveel bezoekers trekt de koopavond of de koopzondag?
Hoe presteert mijn winkel als ik dat vergelijk met passanten die voorbij komen?
Optimale betrouwbaarheid
Sinds juni 2012 test Locatus het continu tellen. Na twee jaar onderzoek staan wij garant voor de gekozen meetapparatuur en de gebruikte methodiek: 24/7 passanten meten via wifi-sensoren van BlueMark. Deze metingen worden bovendien met regelmaat geijkt met brickstream camera's (tellen alleen kruinen van voorbijgangers) en handmatige tellingen.
Privacy gewaarborgd
Locatus & BlueMark nemen privacy serieus. We doen geen enkele poging om de data of het winkelgedrag aan specifieke personen te linken. Direct na registratie van het wifi-signaal wordt het MAC-adres verwijderd. De informatie die wij aanbieden is conform richtlijnen van het College Bescherming Persoonsgegevens.
Voor meer informatie: bel 0348-490290 of mail naar info@locatus.nl
Zie ook de Locatus website